Trade NFTs

with 1 tap.
Sticky is making it as fun & easy as possible to create & trade NFTs, for both casual users & pros.
Store your NFTs directly in Sticky or connect your own wallet:
Sticky is the only NFT Marketplace with
trading in the mobile app Commissions on NFT trades
For Creators:
A Powerful Creation Tool + An Untapped Audience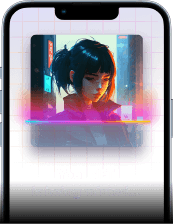 91%
Time US mobile users spent in apps vs 9% on the web.
Source: Comscore